Technology, law, privacy, and security are inextricably linked. Each area is intertwined with the way that government and commerce take place. This holds true for higher education, where these subjects underpin and enable how universities, including the University of Michigan, fulfill their teaching, learning, research, and clinical mission. The Dissonance event series explores these topics from a global and national perspective, and in doing so increases university-wide multidisciplinary discourse, and supports university initiatives related to data science.
The Dissonance event series is a collaboration of faculty, staff, and students from several supporting organizations across the university. If you would like to be informed of future Dissonance events, please add your name to our email list. You are also invited to suggest a topic or a speaker for future Dissonance events.
Upcoming Events
The Ethical, Legal, and Social Implications of Genetics and Newborn Screening
6:00 p.m. • Monday, September 25, Michigan League, Vandenberg Room
Advances in prenatal screening and genetic manipulation may have the potential to all but eliminate birth defects and genetic disorders. For example, prenatal genetic testing in Iceland has almost completely erased incidents of down's syndrome in newborns. This has led to growing concerns over creating "designer babies," hyperbole about the potential for a new era of eugenics, and broader questions about whether science is outstripping societal and ethical norms in regards to human genetic diversity.
Panelists

Related Articles
Weapons of Math Destruction: How Big Data Increases Inequality and Threatens Democracy
Wednesday, October 11 • 1:30 p.m. • Rackham Auditorium, 915 East Washington Street, Ann Arbor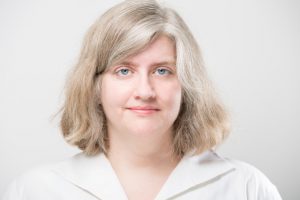 In this Dissonance pop-up, in partnership with the 2017 Michigan Institute for Data Science (MIDAS) Symposium, Cathy O'Neil will discuss her book, Weapons of Math Destruction: How Big Data Increases Inequality and Threatens Democracy.
We live in the age of the algorithm. Increasingly, the decisions that affect our lives—where we go to school, whether we get a car loan, how much we pay for health insurance—are being made not by humans, but by mathematical models. In theory, this should lead to greater fairness: Everyone is judged according to the same rules, and bias is eliminated. But as Cathy O'Neil reveals, the opposite is true. The models being used today are opaque, unregulated, and uncontestable, even when they're wrong. Most troubling, they reinforce discrimination: If a poor student can't get a loan because a lending model deems him too risky (by virtue of his zip code), he's then cut off from the kind of education that could pull him out of poverty, and a vicious spiral ensues. Models are propping up the lucky and punishing the downtrodden, creating a "toxic cocktail for democracy." Welcome to the dark side of Big Data.
Tracing the arc of a person's life, O'Neil exposes the black box models that shape our future, both as individuals and as a society. These "weapons of math destruction" score teachers and students, sort résumés, grant (or deny) loans, evaluate workers, target voters, set parole, and monitor our health.
O'Neil calls on modelers to take more responsibility for their algorithms and on policy makers to regulate their use. But in the end, it's up to us to become more savvy about the models that govern our lives. This important book empowers us to ask the tough questions, uncover the truth, and demand change.
Visit the 2017 Michigan Institute for Data Science (MIDAS) Symposium website for more information on this lecture and the entire symposium schedule. To stay informed on all upcoming Dissonance events, join our mailing list. 
Realted Articles
Who Is Behind the Dissonance Speaker Series
Supporting Organizations
Bentley Historical Library
Center for Computer Security and Society
College of Engineering, Electrical Engineering And Computer Science Department (EECS)
College of Law
College of Literature, Science, and the Arts (LSA)
Gerald R. Ford School of Public Policy
School of Information
U-M Information and Technology Services (ITS)
U-M Privacy and Technology Law Association
Dissonance Organizing Committee
Robert Axelrod, Walgreen Professor for the Study of Human Understanding, Department of Political Science, LSA; Gerald R. Ford School of Public Policy
Sol Bermann, University Privacy Officer, Information Assurance
David Grimm, Associate General Counsel, OGC
Alex Halderman, Professor of Computer Science & Engineering, EECS
Gautam Hans, Clinical Teaching Fellow, Law School
Peter Honeyman, Research Professor, EECS
John Cheney-Lippold, Assistant Professor, American Culture, LSA; Coordinator of the Digital Studies Minor and Digital Studies Program
Aprille McKay, Assistant Director for University Archives and Records Management, Bentley Historical Library (privacy and archival issues)
Tim McKay, Professor of Physics, LSA
Christian Sandvig, Professor of Information, School of Information, Faculty Associate, Center for Political Studies, Institute for Social Research, and Professor of Communication Studies, College of Literature, Science, and the Arts
Florian Schaub, Assistant Professor, School of Information
Margo Schlanger, Professor of Law
Student Team

Tamy Guberek, PhD student, School or Information.
Nadiya Kostyuk, PhD student, Ford School
Matt Kretman, Masters student, Ford School
Allison McDonald, PhD student, Computer Science & Engineering, EECS
Benjamin VanderSloot, PhD student, EECS
Ritchie Wilson, Law student (Privacy Technology Law Association), School of Law
Past Members 
Tim Maurer, Visiting Scholar, Ford School (Carnegie Endowment for International Peace)
Dissonance Participants: News, Papers, and Speeches